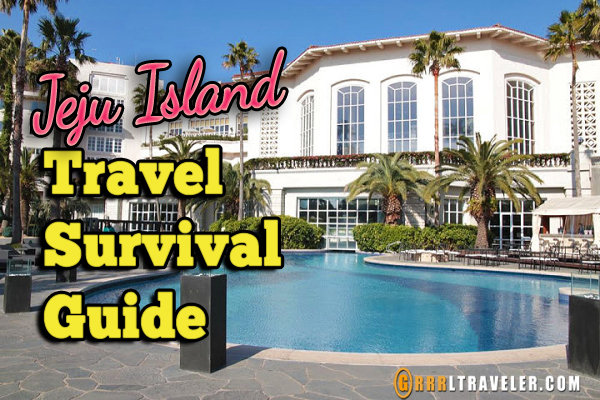 About Jeju
Jeju Island is second favorite spot in Korea next to Seoul. Known as the Korean Hawaii, Jeju attracts an interesting mix of drop-dead gorgeous island beauty, a laidback vibe different from mainland Korea, a more seaside flavor and lots of Korean honeymooners. Jeju City is the most cosmopolitan you'll get when it comes to restaurants and stores and frankly, I didn't spend much time here, other than to catch the bus. I wanted to see the more exotic side of Korea, the one you might see on Korean dramas of a private getaway… not a climbing city.
Where to Stay on Jeju Island

While you can stay near the airport or on the northern side of Jeju Island, such as Jeju City, the two most popular base camps for tourists are south of the island in Seogwipo and Jungmun. The southern part of the island seems to hold the best attractions.

Seogwipo (Map of Seogwipo City) falls second as one of the tourist destinations, but has less variety. Here's a map of places to stay in Seogwipo City. Seogwipo is at the south eastern base of Jeju and the last stop on the Jeju Airport Shuttle bus. There is a bus station in the city and that connects you to a lot of places you'll want to see. I stayed at Jeju Hiking Inn (wasn't keen on it but it's located near the airport shuttle bus drop). Restaurants will be mostly Korean and much seafood.

Jungmun (map of hotels in Jungmun Area) is the resort area and it's worthwhile to see the backlots of some of these posh hotels. The Lotte Hotel and Shilla Jeju are the most popular and best known by Koreans. My mom and I stayed at the Hyatt Regency, for a little western/international standard (and the rates were good). Not only are some hotels shooting locations of K-dramas, but they also offer a unique look at luxury Korea. Many hotels line the cliff overlooking the ocean.
Jeju Airport

Flights

You can fly out of Daegu, Busan and Seoul or take the Busan ferry.

Visit the Tourist Information Center

Jeju International Airport has an information desk where you can pick up free maps and tourist brochures. Get a map and ask for bus numbers to get around to where you need to go. The map will also help you spot sightseeing areas you've not considered.

Visit the Olle desk for Olle walking trails maps.

It's next to the Information desk after you leave the baggage claim area. Having a map of the various trails up front will save you much angst figuring out online. Most local buses will announce trail stops but you need to pay attention.

Take the Airport Shuttle Bus to Jungmun Resort or Seogwipo

There is an airport shuttle bus that will drop you at various locations in Jeju City, Jungmun and lastly, Seogwipo. I think it's 5,000Won. The bus is a coach bus with AC and comfortable seats.

More details, please visit https://grrrltraveler.com/jeju-travel-guide/