Prof. Henry Leung, IEEE Fellow, SPIE Fellow, University of Calgary, Canada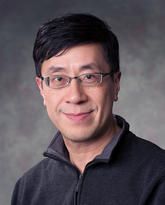 Bio: Henry Leung is a professor of the Department of Electrical and Software Engineering of the University of Calgary. His current research interests include data analytic, information fusion, machine learning, signal and image processing, robotics and internet of things. He has published over 300 journal papers and 250 refereed conference papers. Dr. Leung has been the associate editor of various journals such as the IEEE Circuits and Systems Magazine, International Journal on Information Fusion, IEEE Trans. Aerospace and Electronic Systems, IEEE Signal Processing Letters, IEEE Trans. Circuits and Systems. He has also served as guest editors for the special issue "Intelligent Transportation Systems" for the International Journal on Information Fusion and "Cognitive Sensor Networks" for the IEEE Sensor Journal. He is the editor of the Springer book series on "Information Fusion and Data Science". He is a Fellow of IEEE and SPIE.
Speech Title: 3D Computer Vision with Applications to Autonomous Vehicles
Abstract: In this talk we present our works on 3D computer vision based on RGBD sensing. A visual SLAM system on static and dynamic platforms are described that uses motion prior to obtain accurate motion estimation in metric scale to make dynamic features usable for SLAM on dynamic platforms. When depth info is not available, deep learning is used to perform depth prediction and the predicted depth can be used for RGBD SLAM. In this talk, we will also discuss 3D object detection and tracking that can be used for obstacles avoidance, including approaches to enhance object detection in different environments. The proposed RGBD image processing techniques for SLAM, depth prediction, object detection and object tracking are applied to autonomous driving and the performance are evaluated using publicly available benchmark datasets and experimental datasets we collected for practical driving scenarios in real environments including highways, residential, semi-urban and urban roads.